Thanks to the web you can instantly know what is going on in your home, your business, your child's room, and even see how your dog is behaving no matter where you are. This remote capability is particularly the case for monitoring the temperature in your home or business. The benefits of getting this kind of data are plentiful and can prevent loss, boost profits and increase your security. Best of all, it's easy and inexpensive to use.
So what is a remote temperature monitor? How is it used, and how do you find the right one for your particular needs? In this article, I will review several types of remote temperature monitoring systems and point out the best features of each.
2020 Update
For our 2020 update, we are focusing on remote temperature sensors suitable for DIY enthusiasts and developers.  These devices are more IOT focused and don't have apps and user-friendly interfaces. Usually you connect them through remote gateway and change your application based on the received data.
They are useful for integration home automation and big IOT infrastructures spread far and in different locations. There are thousands use cases for these devices – home and building automation, agriculture, industrial monitoring, logistics, and utilities.
Head to the bottom of the page to read more about them.
What is a Remote Temperature Monitor?
A remote temperature monitor is a thermometer that has been upgraded for the internet age. It's a digital thermometer that tracks ambient changes in temperature. This sensor then streams the temperature data using wireless technology such as WiFi, Bluetooth or GSM. You receive the data via an online service to your computer or tablet, or by cellular service to your cell phone.
If you have an idea about what type of device you want to buy, check out the comparison table with monitors featured in this review article.
| Model | La Crosse Alerts Mobile 926-25101 | AcuRite 01166M | SensorPush | Temperature@lRoom Alert 3Eert USB Edition | Room Alert 3E | MarCELL | Temp Stick | ConnectSense CS-TH |
| --- | --- | --- | --- | --- | --- | --- | --- | --- |
| Ease of Use | | | | | | | | |
| Online service / alerts | ✓ | ✓ | ✓ | ✓ | ✓ | ✓ | ✓ | ✓ |
| Additional Included sensors | n/a | ✓ (3) | n/a | n/a | n/a | n/a | n/a | n/a |
| Additional sensors support | ✓ | ✓ (10) | ✓ | n/a | n/a | ✓ | ✓ | ✓ |
| Email alert | ✓ | ✓ | n/a | ✓ | ✓ | ✓ | ✓ | ✓ |
| Text alert | ✓ | ✓ | n/a | ✓ | n/a | ✓ | ✓ | ✓ (500 SMS) |
| Historical data | ✓ | ✓ | ✓ | ✓ | ✓ | n/a | ✓ | ✓ |
| Custom rules | n/a | n/a | n/a | n/a | n/a | n/a | n/a | ✓ |
| App (Android, IOS) | ✓ | ✓ | ✓ | n/a | n/a | n/a | ✓ | n/a |
| Power | Batteries / AC | Batteries / AC | Batteries | USB | PoE | AC | Batteries | Batteries |
| Multy Contacts Alert | ✓ | ✓ | n/a | ✓ | n/a | ✓ | ✓ | n/a |
| Temperature range | -40°F to 125°F | -40°F to 158°F | -40°F - 140°F | 32°F - 140°F | -40°F to 185°F | 20°F to 158°F | -40°F to 125°F | -32°F to 176°F |
Use cases Remote Temperature Monitoring
There are scores of situations that would benefit from the use of a remote temperature monitoring system. The applications listed here are brief examples, but your unique situation will provide unlimited possibilities.
For even more information about what's going on back home, like wind speed or rainfall, you might want to consider a full home weather station rather than just a single remote sensor.
Home temperature tracking
Wherever you live, whether it's a house, apartment, RV, or even a boat, you will be able to tell at a glance what the current temperature is. Perhaps you have a vacation cottage or cabin in the mountains. With a house temperature monitor, your remote temperature sensors will let you know if it's getting uncomfortably warm or dangerously cold in your home away from home. You can even monitor house temperature with an iPhone.
Models suitable for home use: La Crosse Alerts Mobile
Temperature monitoring for server rooms

Lots of electronics like you'll find in a server room, generate lots of heat. Unfortunately, there is nothing more dangerous for your expensive servers than this accumulated heat. It doesn't take long for components to fail in that environment. With a wireless temperature sensor and monitoring via internet, you can easily monitor conditions in your 'central command.'
Storage room temperature

Storage rooms house many types of temperature sensitive products and materials. Refrigerated rooms quickly come to mind and monitoring for freezers. But, many other situations are temperature sensitive as well, such as wine cellars, drug storage rooms, greenhouses, and nurseries. Using a remote or Wi-Fi temperature sensor can protect your investments and your business.
Monitor animal living conditions

All animals are affected by changes in temperature – even your snakes, turtles and lizards! They thrive only in a very narrow degree range and need to be monitored for optimal health. The same goes for raising young chickens and other small animals. Incubating and hatching eggs is very temperature sensitive and benefits from proper monitoring.
Remote Temperature Monitoring with Cloud-Based Service
Pros
Cons
Useful for

Good range
Easy to use
Cloud service
Free app

SMS service not so fast
Need service plan after a year
App sometimes buggy
The La Crosse Alerts Mobile 926-25101 GP Wireless Monitor System remotely monitors temperature and humidity. You can watch via your smartphone, computer or tablet to keep tabs on your home, business or any place you need to track.
The device comes with a six-foot dry probe for monitoring harder to reach places such as a refrigerator or freezer.
The La Crosse Alerts monitors 24/7 and will send you an early warning message – text and email alerts – if either temperature or humidity levels go beyond the range that you pre-set. The system will notify you if the connection is lost or the batteries are weak.
Download the system's easy-to-use mobile app and view current readings or any data from the last 24 hours. You can download the system's history logs as well as change your temperature alarm/alert settings any time you choose.
Set up is easy
Just connect the included Gateway to your internet router.
Install batteries. Connect the included dry probe if you wish.
Log in to: lacrossealertsmobile.com. Or, you can download the new La Crosse Alerts mobile app. Just sign up as a new user and follow the instructions to register your Gateway and Sensor to begin receiving temperature and humidity data.
Monitor your cottage/villa/house/rv/cabin/vacation home
Included:
Wireless temperature and humidity sensor with a detachable 6-foot dry probe.
Internet Gateway with LAN cable with AC adapter.
Mobile App – download onto your smartphone or tablet. Available through Google Play, iTunes or from lacrossalertsmobile on your computer.
This is a versatile system that can also accommodate additional sensors. The improved mobile app makes monitoring easy and automatic.
Temperature Monitor with Additional Sensors
Pros
Cons
Useful for

Multiple sensors
Easy to use
Cloud service
Free app

3 sensors can be demanding to set
Sensors don't operate on long distance
When you need to monitor multiple rooms or environments, the AcuRite 01166M 3-Sensor Indoor Temperature and Humidity Remote Monitoring System might just be a perfect choice. This monitor comes with three sensors for simultaneous tracking of temperature and humidity in several locations.
The three indoor sensors provide constant monitoring with digital displays. The sensors are free standing for tabletop use, and they are easy to wall mount with an integrated keyhole.
You can easily label each location you are monitoring such as living room or bedroom, to distinguish sites at a glance.
The system features custom text and email alerts. Set your parameters for high or low temperatures and humidity and be informed automatically. Get a notification before your property or valuables get damaged.
With the My AcuRite platform, you can have a remote temperature monitor with your iPhone or Android smartphone, iPad or Android tablet, or through a web enabled browser.
Follow Trends The system creates charts and graphs of all received data. Gauge temperature/humidity level changes throughout the day. Use this information to set or dial in the most energy-efficient settings for your home's heating and cooling systems.
This System is Expandable
The MyAcuRite has a smartHUB that receives data from as many as ten wireless sensors. The system is customizable, so you can change the configuration as your needs change. For instance, it can monitor water leaks or track liquid or soil temperatures. This can be a lifesaver in cold weather climates where frozen pipes are susceptible to bursting.
Wireless Room Sensor Features
The Room Sensor features an at-a-glance humidity icon that shows if indoor humidity levels are 'High,' 'Low,' or 'OK.'
The Digital Room Sensor display also uses easy-to-see trend arrows. In an instant, know if the temperature or humidity levels are rising, falling or holding.
The Room Sensor has multiple mounting options – use on a tabletop or easily mount on a wall.
This is a versatile and customizable Room Sensor that tracks multiple locations and provides lots of data options for watching trends. Use in child room/room/storage room.
Best Compact Remote Temp Monitor
Pros
Cons
Useful for

Small
Export data
Free app

Only Bluetooth
Separate device for Internet monitoring

Home use
Storage rooms
Server rooms
Animal Monitors
If you're looking for a compact and smartly designed sensor, consider the SensorPush Wireless Thermometer / Hygrometer. It measures a tiny 1.57 x 1.57 x .65 inches but packs many of the same features of the larger monitors.
Despite its small size, the SensorPush is accurate, featuring a Swiss-made sensing component. The unit is easy to set up with the free app for iOS 8+ or Android 4.3+. Just hold the sensor against the screen to adjust the unit.
The line of sight range of 325 feet can even detect data clear across your home. Once you set it up, this monitor will transmit its readings to your devices via Bluetooth.
A SensorPush G1 WiFi Gateway device is needed to send data and alerts over the Internet.
Data-driven

If you appreciate lots of data and many ways to crunch that data, then you won't be disappointed with the SensorPush. The sensor will hold over 20 days of data which is transmitted to any paired phone via Bluetooth when within range.
The monitor takes readings every minute, logging them with a time stamp. It displays the data on a digital graph by the hour, day, month and year.
You can also export the raw data as a .csv file. The data imports into an Excel spreadsheet. Now you can sort and filter your readings every possible way for maximum usage.
Guarantee

SensorPush guarantees their compact product for two months. If you're not satisfied, they will fix it, or you can return it, no questions asked. Reviewers raved about this sensor for its accuracy and dependability. Also of note, there was impressive feedback regarding the company's service. One reviewer noted the company responded to his email request in just ten minutes!
Remote Temperature Monitor on USB Stick/Dongle
Pros
Cons
Useful for

USB
Realtime graphing
No batteries or AC
Looking for a small, simple to use monitor for your server room? Then check out the Temperature@lert USB Edition. This is a temperature monitor encased on a USB stick. The tiny unit plugs right into your computer's USB port and runs on Windows. It never needs batteries or AC as it uses the computer's power.
The monitor sits in your server room and tracks temperatures from 00 C to +600C. It's accurate to within ±0.5°C. You can customize your alert message, which can be sent as a one-time warning, or transmitted to you continuously. Alerts are sent via email should the temperature rise to unacceptable levels.
Real-time Graphing

The data from the Temperature@lert can be configured into real-time graphing and provides XML support. You can import a temperature reading/thermal reading into either text or XML files. These files can be quickly integrated into custom applications for further analysis. For instance, you can import temperature readings into websites. Temperature readings can be done in either Celsius or Fahrenheit.
More Features

The included software comes on a CD-ROM and includes a Quick Start Guide. There are no monthly fees. However, there is an optional Sensor Cloud service which facilitates online viewing and smartphone apps.
The log alerts will record on your PC's event log. Also featured is an optional PC shutdown.
Support for SMTP authentication
Runs custom Power Shell scripts
Real-time temperature graph
Doesn't need batteries or AC
Can send alerts to several email addresses.
For iphone/ipad/android
Runs on Windows 2000, XP, 2003 Server, Vista & and 2008 Server.
The package includes Free Software Upgrades for one year.
Temperature Monitoring with Ethernet Adapter
Pros
Cons
Useful for

Ethernet
Power over Ethernet
Webpage update

No app
No cloude service
Software can be Quirky
The AVETECH Room Alert 3E is an economical answer for IT & Facilities Monitoring. It is also compact, so if you don't have a lot of space in your facility for a temperature monitor, this unit will fit nicely. It is also perfect for rooms where there may not be easy access to power, as the unit can be powered from the ethernet.
The AVETECH features an Ethernet "Plug & Play" setup for quick and easy IT facilities temperature tracking. The built-in sensor shows digital temperature readings. The unit comes with ManageR software and offers "Push" technology.
If you are interested in a Light Tower & Relay Adapter (LTA), this unit provides one at a most economical cost. With the LTA you can connect an AVTECH Light Tower, Light Tower w/Audio or Relay Switch Sensor.
You can add your choice of a digital sensor and switch sensor to expand monitoring capabilities with a simple configuration known as "easy connect."
Also built in is Power over Ethernet (PoE), a 5-volt power adapter. The package includes the "GoToMy Device Cloud Service," for reliable delivery of your temperate data.
More Features

The device includes ports for a digital sensor or Light Tower & Relay Adapter. Also featured is Advanced alerting by email, email-to-SMS, and SNMP. Also, the unit features web page update.
Warranty Info
AVTECH Software Inc. (AVTECH) warrants its Room Alert environment monitors against defects in materials and workmanship under normal use for one (1) year from the date of purchase ('Warranty Period') by the original end user customer.
Monitoring with Cellular Connection
Pros
Cons
Useful for

Cellular
No Internet needed
Easy to use
Don't have an internet connection or a phone line? The answer for you is the MarCELL Cellular Connected Monitoring System. This easy to set up monitoring system is up and running in about 15 minutes.
Here's how it works: the system communicates with Verizon cell towers, one of the largest mobile networks. Cellular systems have proven to be more reliable and secure than devices connected to WiFi. The device comes with a lithium battery, so it will work during a power outage. The MarCell has an internal modem so that it doesn't conflict with your personal cell service.
The Monitoring System will alert you via text, email or even call if there is a temperature spike, extreme humidity, a power outage and when your power is restored. You'll have peace of mind knowing if anything goes wrong, you'll be notified.
Internet Cloud Application
Though it is based on a cellular network, the monitor communicates with an internet cloud application. It communicates directly to your computer, tablet or smartphone. The system sends sensitive data three to four times an hour to your cloud account.
Wireless Sensors
You can add optional sensors to the MarCELL Cellular Monitoring System. The sensors add multiple zones and range of up to 200 feet. The sensors can monitor for water leaks and even flooding. They are small and battery powered so can be placed behind toilets, under sinks and near to sump pumps or hot water heaters.
Multiple Low-Cost Subscription Monitoring Plans The annual plan is only $8.25 per month. If you only want to pay for selected months, then the rate is $11.95 per month. You can select a range of four to eight months on this plan.
There is also a month-to-month plan at $14.95 per months.
Multiple User Alerts and History Data Monitor
Pros
Cons
Useful for

Unlimited History
Apps
Easy to use

Home use
Server rooms
Storage rooms
Animal monitoring
The Temp° Stick is a versatile all-in-one wireless sensor for monitoring temperature and humidity for your home or business. The system features monitoring with wifi. Just connect the system directly to your network – no gateway devices are required.
This system will also alert multiple users. This is not only convenient but also a failsafe backup should any one user miss an alert.
The sensor will immediately alert you if there are extreme changes in temperature, humidity, if a connection is lost or if batteries are getting low. It sends text and email alerts. The unit is battery operated so that it will function anywhere. You can view and manage its operations from your smartphone, tablet or PC.
The system will track temperature of -40°F to 125°F and humidity from 0 – 100%. You can set hi-lo triggers to alert you should something go amiss. Plus you can customize your alert messages.
More Features
The Temp° Stick records an unlimited history of sensor readings. This is ideal for crunching data and watching for overall patterns. You can set the frequency of readings from 1 to 12 times every hour.
There are no fees or subscriptions, and free Android and iPhone mobile apps are available. Readings can be in Celsius or Fahrenheit.
The system comes with a money-back guarantee.
Reviewers were impressed with the ease of the app interface and that the system doesn't require any subscription. There was also solid feedback about the customizable alerts and excellent customer service and support.
Wireless Remote Monitor with Custom Rules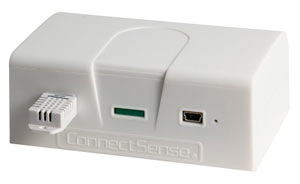 Pros
Cons
Useful for

Custom rules
Apps
Easy to use
API

Additional price for over 500 messages

Home use
Server rooms
Storage rooms
Animal monitoring
If you're looking to monitor much more than just temperature and humidity, check out the ConnectSense CS-TH Wireless Temperature and Humidity Sensor. From the living room to server room, from the basement to the greenhouse, this system features an array of sensors to monitor anything that might go wrong.
This is an easy to connect, easy to use system with a host of options to monitor multiple functions. You get to program the system by creating simple 'rules' for your alerts. The sensors are wireless and quickly set up.
As with other systems, the ConnectSense features a temperature and humidity sensor. You can just as easily monitor a server room as a wine cellar or valuable books, art, even cigars – anything that is affected by temperature or humidity.
The system quickly sets up using your existing WiFi network. You set up the contact rules and receive messages and alerts via phone, text message, email, and Twitter.
The ConnectSense cloud receives data from the sensors and can be accessed anywhere, on any device with a web browser. This cloud-based infrastructure is reliable and notifies you instantly should anything go wrong. Also, there are no monthly fees!
The ConnectSense software incorporates a 'rules engine,' so you can create if/then-based rules for your sensor. This provides maximum versatility to monitor all conditions. Unlike other sensors that require gateways and can fail, no additional hardware is required.
The device can be powered by 2500mAh rechargeable batteries, so you don't need an AC connection. Install the sensors anywhere, even in your motor home.
Multiple Functions
ConnectSense offers a complete line of sensors to monitor temperature and humidity, plus you can also monitor for water, motion, security door/window, dry contacts, and light. This system offers complete coverage!
Output Modules
The ConnectSense is more than just a collection of sensors for monitoring your home or business. The system also features power output modules, which can take the alerting data and create actions based on rules you've programmed.
Just add these output modules to your account, and they can work with any of your sensors. If an alert occurs, the module will function according to the rules you've set up. For instance, a temperature sensor in Los Angeles can trigger a siren in New York. ConnectSense offers a variety of outputs including a siren/strobe, digital output, and power relay.
Reviewers report that setup and installation only take about 1 – 15 minutes. They also like the versatility of creating their own reporting rules and that they are easy to use.
Remote WiFi Temperature Sensor for Wall Outlet (AC)
Pros
Cons
Useful for

Easy to use
Build as power plug

Short sensor cable
No App

Home use
Server rooms
Storage rooms
Proteus AMBIO WiFi Temperature Humidity sensors is easy to use device suitable many applications. From storage and refrigerator monitoring to remote home and server room. The device draw its power from standard 120-240 AC outlet. Just plug it in and you are good to go.
AMBIO uses a cable style probe to record the ambient data. The cord is 3 inch long. If you find this on the short side you can get and extension that goes between the base unit and the probe. According to the specification the device works in the range of –10 to 85 °C (-14 to 185 °F) with ~0.5°C accuracy. It can go up to 125C or 257°F.
Setting it up is pretty straightforward. Set your WiFi, open your phone and visit the manufacturer's site and login with user name and password. Connect the device, let it pare and you are set. The device creates its own WiFi network for initial setup.
When inside your on-line account you will have the option to set all the the necessary thresholds and alarms. Temperature and humidity readout are also available there. Proteus gives you two notifications options – email and text message to your smartphone. Another useful feature is the ability to use more than one email address and cellphone number for each active sensor. In time of power outage (when the sensor stops reporting) you will receive text or email notification.
Besides all remote alarms there is local in-unit buzzer the will be set off when some threshold is met. The duration of buzzer alarm can also change.
Dragino LHT65 remote temperature monitor with LoRa Support
Pros
Cons
Useful for

Accurate
Low Power
Long distance
Developer friendly

Need some additional knowledge

Home automation
IOT
Industrial storage
LoRa sensors are very useful for application where there is no power and you only have the option of battery. The technology permits for continuous use with the same battery for over two years.
The sensor is able to transmit information to remote gateway that are somewhere between one and 10 kilometers away, depending on the antenna used. The gateway than connects to the internet to transmit the sensor data.
You can use many sensors with a single gateway if necessary.
The Dragino LHT65 is one such sensor that supports long rang LoRaWAN network connection. There is humidity and temperature sensor (SHT20) inside.
The built-in temperature sensor has resolution of 0.01 °C and operation range between -40 and 125 °C. The external probe works between -55 and 125 °C with resolution of 0.06 °C.
The power comes from the built-in 2400mAh non-chargeable battery with life of more than ten years if you use the lowest rate of data transmission. To save even more battery there is Idle mode, where the device is practically off and does not transmit any data. When Idle the device consumes 3uA and in transmit mode max 130mA.
This model works with frequency standards available in most regions. When installing be sure the set the proper frequency for your location.
LHT65 uses LoRaWAN Class A protocol, which this mean it is compatible with most LoRa gateways.
Dragino ships LHT65 with programmable cable – used to upload images to for support features, bug fixes, and band changes.
Aeotec Multisensor 6, Z-Wave Sensor
Pros
Cons
Useful for

User friendly
Low Power
Developer friendly

Need some additional knowledge
Aeotec Multisensor 6 is a compact Z-Wave protocol sensor that is a prefect tool to ramp up your smart home automation.
And Aeotec's model has lost of sensing power for those of you who need more than temperature. They are – motion, light, vibration, UV, and humidity.
The sensor has resolution of 0.1 °C and operation range between -10 and 50 °C.
This multisensor reports temperature every 10 minutes when there are no regular changes; however, of the changes are more rapid, the device reports more frequently. To save battery power you can reduce the report rate via the added USB cable.
To power the device you can use the USB cable or two CR123A batteries. The battery will last longer if used only for temperature.
Integration with your favorite home automation software should be easy. For example, Vera Lite has native built-in support for this model.
Additional info / Buyers Guide
We all appreciate the security of knowing our valuables, our property, our pets or our business are protected and secure. Nothing is worse than coming home to a broken pipe, or worse, an animal in distress.
But if you're not home or away for an extended period, nature, equipment failure or accidents can create havoc for the things you care about. Nothing takes the place of being able to access vital data about your home or business when you can't be there.
Here are factors to consider when shopping for your remote sensing monitor system.
Access to Data and Alerts
The models listed here all send critical alert data to your connected web device – smartphone, tablet or computer. Most use a 433mhz remote temperature sensor system. Some send regular readings continuously like the SensorPush Wireless Thermometer / Hygrometer, which takes readings every minute, logging them with a time stamp. All the units instantly send alerts should something go awry.
Unlike the others, the MarCELL Cellular Connected Monitoring System sends data using a cellular system, not relying on local WiFi. Some units like the AVTECH send SMS/text alerts, and the ConnectSense CS-TH can even alert you on Twitter. The SensorPush comes with a free app for your smartphone iOS 8+ or Android 4.3+.
For DIY and home automation, chose sensors that are more pure and not locked in some ecosystem. Such devices work with wide range of gateways and are very suitable for complex setups. LoRaWan and Z-Wave sensors are just one of many possible choices.
LoRa is radio frequency transmission method that allows you to transmit data at long distances at very low power. This allows you to power the sensor with a normal AAA battery. You don't need permission (licance) to operate LoRa device, because it operates on open frequencies – the same as WiFi.
Types of Data Collected
All the units have the capability to collect temperature and humidity data. Also, some like the ConnectSense monitor for water leaks, motion, security door/window, dry contacts and even light. Some models allow for the addition of extra sensors such as the La Cross Alerts Mobile, and the AcuRite 01166M 3-Sensor Monitoring System can accommodate as many as ten extra sensors.
Data Visualization
The SensorPush can export its data to .csv files so you can import the information into an Excel spreadsheet for further study and evaluation. Other models like the La Cross Alerts Mobile and the Temp° Stick collect unlimited historical data. Also, the AcuRite 01166M creates charts and graphs of all received data. The Temperature@lert USB Edition exports its data into custom applications for further analysis.
Power Up
Some models such as the Temp° Stick run on battery power. Two exceptions – the Temperature@lert USB Edition plugs into your computer's USB port and uses the computer's power – no other power source is needed. And, the AVETECH Room Alert 3E features a power over Ethernet (PoE).
Cost and Warranties
Our most economical model, the La Crosse Alerts Mobile 926-25101 GP will only set you back $29. On the other end of the spectrum, the MarCELL Cellular Monitoring System comes to $179 but includes features such as an internal modem and multiple zone sensors which have a range of up to 200 feet. Warranties also vary with the SensorPush offering a no questions asked two-month warranty, to the AVTECH's full one year warranty.
Conclusion
Just a few years ago it would have been impossible or extremely costly to monitor conditions like these in your home or business. Now in 2017, thanks to the web, WiFi, cellular networks and the internet of everything, you can be your own monitoring station, knowing instantly if something has gone wrong, even if you are thousands of miles away. It's a new networking age helping to ensure peace of mind and security for the important things, people, and valuables in your life.